Compeer of the Lehigh Valley has the following upcoming events. Check back often to see what we have planned in the coming months.
Veteran Summer BBQ!
June 22, 2017 5:00-7:00pm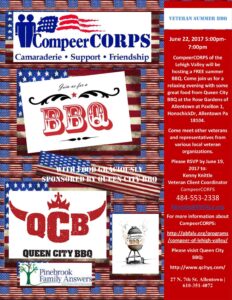 CompeerCORPS of the Lehigh Valley will be hosting a FREE summer BBQ. Come join us for a relaxing evening with some great food from Queen City BBQ at the Rose Gardens of Allentown at Pavillon 1, HonochickDr, Allentown Pa 18104.
Come meet other veterans and representatives from various local veteran organizations.
Please RSVP by June 19, 2017 to:
Kenny Knittle
Veteran Client Coordinator
CompeerCORPS
484-553-2338
gro.V1519089903LAFbP1519089903@eltt1519089903inKK1519089903
For more information about CompeerCORPS:
http://pbfalv.org/programs/compeer-of-lehigh-valley/
Please visit Queen City BBQ:
27 N. 7th St. Allentown | 610-351-4072