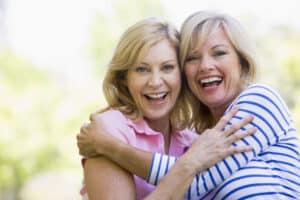 Are you interested in becoming a Compeer volunteer? Read about how our program works.If it seems like a good fit for you, follow the steps to submit an application.
What does the Compeer of the Lehigh Valley program do?
The Compeer of the Lehigh Valley Program matches adults who are living with mental illness with community volunteers to create intentional friendships with the goal of reducing isolation and loneliness.
How often do volunteers meet with their friend?
Volunteers will meet with their friend once a week for an hour at mutually convenient times. Some matches choose to meet once every two weeks for two hours. All matches are unique and scheduling is flexible. With the help of Compeer of the Lehigh Valley, you and your friend will set your own schedule.
What do volunteers and friends do during this time?
Time is spent sharing activities you both enjoy, such as movies, sports, going for walks in good weather, shopping, coffee and a chat, or many of the free activities available in your area.
How do you apply to be a volunteer?
Look through the volunteer requirements listed below. If all apply to you, then you can download and print an application and mail to the address on the form or complete the online form below.
Requirements to be a Compeer Volunteer
Please look over the following requirements to see if volunteering with Compeer of the Lehigh Valley is a good fit for you.
You are at least 18 years of age.
You have a valid driver's license.
You are willing to provide or apply for a background check and driving record.
You are available at least once a week for about an hour.
You are able to attend a training session at Pinebrook Family Answers prior to volunteering.
If all of the volunteer requirements apply to you please download and print the Volunteer Application and mail to:
Pinebrook Family Answers
Compeer of the Lehigh Valley
Attn: Volunteer Coordinator
402 N. Fulton Street
Allentown PA 18102
Or complete the online form below.
Check out our Upcoming Volunteer Training Dates.