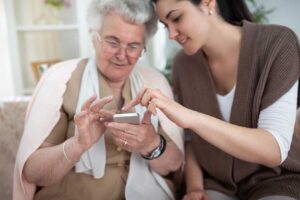 AVAILABLE:  Call 610.867.3946
FLEXIBLE:  Meeting your personal and scheduling needs with hourly, daily, weekdays and weekend care; including overnight, and live-in care providers.
AFFORDABLE:  You select the fee structure that fits your needs best.
RELIABLE:  Celebrating 49 years of providing  in-home personal care to aging seniors and  others throughout the Lehigh Valley.
PROFESSIONAL:  Our trusted employees and registered independent contractors are certified by the PA State Dept. of Public Welfare.
Geriatric Care Management Services
Have You Become a Parent to Your Parent?
Do you need help keeping your aging parent at home?
Are you a long-distance caregiver in need of some guidance?
Can you use assistance finding the resources to help your aging parent?
Would you like advice when choosing the right caregivers or facilities for your parent?
Do you need someone to monitor your parent's care?
Do you need help setting up services for your parent?
Are your parents' concerns taking time from your own family and career?
Through Pinebrook Family Answers' Geriatric Care Management Services we can:
Conduct an assessment to identify problems.
Offer recommendations, determine eligibility for assistance.
Screen, arrange and monitor in-home help or other services.
Act as a liaison to families at a distance, alerting families to problems.
Provide guidance, support and peace of mind to caregivers of older adults.
Provide homecare through the Agency and/or Registry of Homecare Services of Pinebrook Family Answers.
For more information please call 610-867-3946.