Making the Grade is a truancy reduction, family-support program for elementary and middle school youth attending kindergarten through eighth grades, determined by the school to be truant or at-risk of dropping out.
By providing services to the student and their caregiver in the home, school, and throughout the community, the goal is to improve school attendance and enhance family functioning by identifying the youth and families strengths, needs, and risk-factors contributing to illegal absences; and developing an action plan to provide support, information and intervention.
Within a week of receiving the referral, the program staff will contact the family and meet with them to share information about the services and how it may prove helpful. Families are accepted for services based upon the willingness of both the student and his/her caregiver(s) to participate in the program.
To learn more about the Making the Grade program please contact Cattima Millsap, Program Supervisor, at 610-432-3919 or by email at gro.V1519089985LAFbP1519089985@pasl1519089985limc1519089985.
Supporting Scholastic Success: Meet Ryan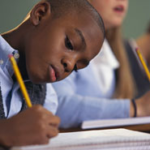 Ryan improved his grades, had perfect attendance, and was promoted to the fifth grade…
Learn More
Our Making the Grade Outcomes
29 elementary and middle school students successfully completed the truancy-reduction, family-support program.
Learn More